Heritage Tents are manufactured from the highest quality materials by George Mudford and Sons Ltd of Retford in Nottinghamshire.
Our tent and marquee manufacturing heritage goes back to 1832; and we honour the same principles of craftsmanship and excellence today, as we did back then.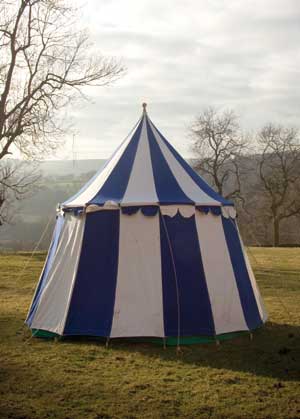 Round marquees, called Pavilions, were common in the days of the English longbowmen. The Pavilions were often decorated with woven, striped cloth, embroidery and applied motifs - from the Cloths of Gold to Agincourt and the fields of Bosworth these tents created a varied and colourful camp scene.
Our medieval tents are handmade from high quality 14oz flame retardant† cotton duck canvas which is both water and dry rot resistant. All ropes are natural in colour or have a traditional fibre appearance; and poles and spokes are fashioned from top quality varnished timber. Even our pegs are made using chunky hand cleft ash for extra strength.
Handmade historic tents ... bringing the past to life and life to every occasion .
John Waterhouse, formerly of Past Tents, works with Heritage Tents as a consultant.
Heritage Tents is a division of George Mudford & Sons Ltd - tent makers since 1832
Tent Warranty
All Heritage medieval tents carry a one year warranty from date of purchase. We will repair or replace tents as necessary during this period.
We trust that you will take good care of your tent which in return will give you many years of service and enjoyment.
Customers are welcome to visit our factory to look at products and discuss individual requirements. We will be extending our range of medieval tents this year so please return to this website for updates.
Canvas specification
† Our canvas has a flame retardant finish to BS5852 - resistant to cigarette ignition. This offers a margin of safety previously unavailable in a canvas tent, but a flame retardant canvas does not preclude good judgement when dealing with fires in camps and certainly does not mean caution to naked flames can be ignored.
A flame retardant canvas is only a safety measure.